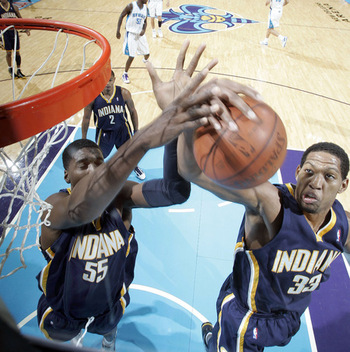 The Indiana Pacers were opening up the season with their leader being All-Star forward, Danny Granger. But since then, there have been questions swinging around this team of who the team's true leader really is.
Roy Hibbert has drastically stepped it up this season, increasing his points total by nearly two per game and rebounds by nearly five! He is so far averaging at total of 16.3 points and 10.2 rebounds per game.
Granger really isn't much behind, putting up All-Star numbers, too, with 22.1 points and five rebounds per game.
Both have been solid this season and both could very well be going repping the Eastern Conference in their dark-blue jerseys coming up in February.
And it could happen.
But who is the leader?
Hibbert has showed promise and is showing that he can also make the case for winning MVP. Some ESPN experts predicted Hibbert being in that race and also becoming the winner for the Most Improved Player award. In my opinion, Hibbert should win MIP. He has vastly improved over the course of this summer.
Pacers columnist Kent Sterling says that Hibbert is the leader of the Pacers, as he shows great emotion and leadership the Pacers desperately need since Reggie Miller.
Hibbert even started a Pacers group called "Area 55." Many fans are dedicated to this and crazy for No. 55.
But making the case for Granger is the exact same.
From the point after the year Reggie Miller retired up until the end of the 2007-08 season, Pacers fans gone into depression and have not been proud of the way their team played.
Sure, they had the talent with guys like Ron Artest, Stephen Jackson, and Jamaal Tinsley. Yes, there was also Jermaine O'Neal. But many big events happened over the course of that time.
The only good thing was O'Neal. But he couldn't do everything by himself. When he was the man, the Pacers could only win near 40 games a season. O'Neal would then be plagued by injuries and become traded.
Jackson and Tinsley would go into troubles with laws, mainly the shootings that happened in downtown Indianapolis.
Artest was a man with anger-management issues. He had a huge problem and was just a crazy person. And there is no point bringing back the memories of what happened at the Palace, so I'll put that to rest.
But once the 2008-09 season, many saw the glimpse of the team's new rising 6'9" 230-pound star, Danny Granger. Granger stepped last season in 2007, averaging about 19 points per game. But 2008 was when he brought Pacers fans back into joy.
He was saving Indiana from severe desperation and was lighting it up from all points of the floor, leading the Pacers to a 36-win season, coming up two games short of the playoffs. Granger was the reason why Conseco Fieldhouse was filled with fans again.
But both have stepped up to become leaders of the team.
But here's what we should do, why not make both the true leaders of the team? Both have been here for a while and have stepped it up. They are both the most emotional, most-dedicated, and most loyal players on the team. They both definitely deserve the recognition as the leaders.
Darren Collison isn't there yet. But he once he finishes up the season and keeps playing the way he is right now, Indiana can have their own big-three very soon.
So there you have it.
The season is young and bright.
And so are the Pacers leaders.
And their team.