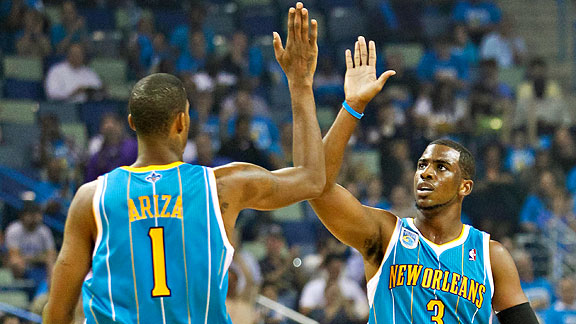 There have already been some surprises in the NBA this season. The Miami Heat got handed it to them when they lost to the Boston Celtics, 88-80. However, they proved people wrong, destroying several teams, most notably the Orlando Magic to prove they are real deal.

Then there are the Houston Rockets, who have opened up to a surprising 0-3 slump. Then there are the Atlanta Hawks and the Portland Trail Blazers, who opened up to a solid 3-0 start. But there is another big surprise. A big, underrated surprise: The New Orleans Hornets.

Led by Chris Paul, the Hornets have proven themselves. This really helps the Hornets, because if they keep playing solid like this, then they can keep Paul and re-sign him. Can Paul bring back glory for the Hornets? Yes he can. And he can bring more glory for the city of New Orleans if he can bring in a title for the Hornets. New Orleans will party even more, even when the New Orleans Saints have just won the Super Bowl a season ago.

But however, Paul can't deny how much talent teams he has been targeted to have, the Orlando Magic and the New York Knicks. Both have some solid talent on their team.

But the Hornets have been solid, and a 3-0 start is nothing to be ashamed of. The Hornets are showing they can be the real deal, especially in important games when it really counts. The Hornets have gotten the tools they need, with new great additions like Marco Bellinelli, Willie Green, and Jerryd Bayless. Those three have been great contributors coming off the bench. Then there is their important sixth man in Marcus Thornton.

Paul has a lot of help on the starting-five, too, helped by Trevor Ariza, Emeka Okafor, and David West. New Orleans got a bargain for Ariza, and he can really help out. If he can show signs of the 2008-09 season when he was a Los Angeles Laker, the Hornets could be the best of the rest in the west.

But there are going to be some problems, possibly. The Hornets need to know that they can't rely too much on their prized point guard. If Paul dies down and gets slow, the Hornets could be in trouble. And they don't want go down the path again of him getting injured as well. And if Paul keeps getting relied on too much, he could end up like LeBron James, who was relied on too much by the Cleveland Cavaliers. The Hornets need to space things out and let other players get some points and everything. Right now Paul is doing fine with 20 points per game and nine assists. If they keep relying on him too much and go towards 30, we got a problem.

The Hornets need to get the frontcourt depth improved. Sure, West and Okafor is fine, but take a look at the rest: Peja Stojakovic, Pops Mensah-Bonsu, D.J. Mbenga, and Jason Smith. Stojakovic usually plays small forward and is mostly considered soft for playing the four. Basically, all you can say is that Stojakovic is a three-point shooter. Mensah-Bonsu is a good back-up, but you can't expect him to be solid for 15 minutes a night. Mbenga is just a career back-up center. However, he did great in New Orleans' last game, piling up blocks. Jason Smith, wait, who?

But the New Orleans may start one of those guys. Okafor will be able to play every game this season. But West, there could be a question-mark. If Mensah-Bonsu, Mbenga, Smith, or even Stojakovic get a big amount of minutes, oh my. But New Orleans took that risk when they traded away Craig Brackins and Darius Songaila for Willie Green and Jason Smith during the NBA Draft in June.

The Hornets are most likely to finish somewhere around 45-50 games if they keep playing like this. Maybe even towards 55. But if they fail at one point, there chances of even making the playoffs could be long gone. And New Orleans needs to make the playoffs this season. Anything but a Western Conference Finals appearance or better could force Paul a trade demand.

This season is not just for Paul's future, but it is for New Orleans.

As their franchise could be in jeopardy.