This is a huge blow. A big blow to the Portland Trail Blazers, but worst of all, a huge blow to Greg Oden and his promised career in the National Basketball Association. Oden showed a lot of promise last season, on his pace to an invite to the NBA All-Star game. He was tearing up the boards and was just rocking it, earning the fans' trust in him and becoming a dynamic player. He was truly going to be great. But then it happened. Oden got injured, again. On December 5th, 2009, it was announced his season was over for the second straight time. But there was hope for next year. Oden would return by December hopefully. But now, it seems unlikely. The Trail Blazers told the media that Oden will undergo surgery again and he will be out for the remainder of the season...again. The doctors badly wanted Oden to play, but now they will be performing surgery on his banged-up knee again. ESPN NBA columnist J.A. Adande asked if they should re-evaluate their methods. "Absolutely," he said. The organization asked themselves, "Is there anything we could be doing that we're not doing? Is there anything that we're missing?" It's disheartening of how things would come to this conclusion for Oden. It seems like this is his last chance. And most probably, it is over for Oden and his career in Portland. But really, is it? Similar things happened to Zydrunas Ilgauskas and Grant Hill. They were going through tough injuries, but now have bounced back and are one of the top players in the NBA today. But for Oden, he could leave Portland. The Trail Blazers could be facing a big risk. The least they could offer is somewhere in the range of a one-year deal worth about $8 million. However, it seems that Oden may not accept. The Blazers don't want to take the risk of giving him a long-term deal, as he has already have had three major injuries now in his young NBA career. The guy is only 22 years old. I just hope things can work out for him as he has so much promise. But if he does get healthy, and I hope he does, I think he can be a huge addition for any team that would want him. For the Houston Rockets, Is It Time to Give Up On Yao Ming?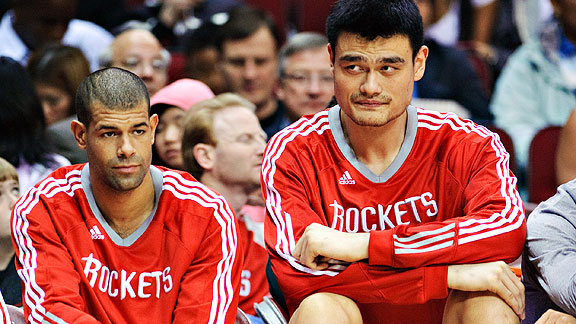 The Houston Rockets were dealt with a huge blow to their team. Like Oden, Yao Ming will now miss more time with his Rockets' squad.
Since Yao has been dealing with injuries, the Rockets have now been led by a new leader for the team, and that is believed to be new-acquisition from last season, Kevin Martin. Martin is set to lead this team to success now, even without Yao.
The Rockets have managed to deal without Yao for the past two seasons or so.
And they don't even need a center anymore. Brad Miller and Luis Scola are good enough for the Rockets to succeed in the frontcourt business. Plus, they have two rising young stars under frontcourt with Patrick Patterson and Jordan Hill.
Houston also has Aaron Brooks and Kyle Lowry leading the guards with Martin. Brooks and Lowry make a solid tandem at point guard, as they helped get a few victories finally.
The Rockets also have a great defensive-stopper in Shane Battier. He's been with the team for a while and is continuing to be the veteran leader for the squad.
There's nothing wrong with the Rockets.
As of right now, it is No Yao, No Problem.
Ming's career could be over now if he continues to get injuries like these. I wouldn't be surprised if he calls for a retirement in the near future.
Ming even told the media this summer that the time could be near.
Bosh Finally Becoming Helpful to the Heat, But Needs One More Thing To Fully Succeed This Season
It was about time that Chris Bosh finally was becoming helpful to the Miami Heat.
It was getting so bad that The Basketball Jones made a parody of the team's star power forward called "Like A Bosh." They dissed Bosh badly and it was all true. Bosh needs to step it up.
Last night against the Phoenix Suns, he did. Bosh went up for 35 points and six rebounds, helping the Heat improve with a 123-96 win over the Suns.
Bosh is finally getting into his old swagger. Glad he's finally starting to score now. But there is only one problem, and that is his rebounding total. He has a very low one, averaging about six per game.
I am expecting at least eight-to-twelve for Bosh.
But, however, I give him the pass. With a new starting center in Zydrunas Ilguaskas, the Heat will improve with rebounding dramatically.
And hopefully, so will CB4.