Notice that picture right up there. Look at that above. I'd be screaming too if I were playing like that.
We know that game he played in. The Miami Heat were up by 20 points, but then blew it losing to the Utah Jazz. The undersized power forward Paul Millsap got a bunch of rebounds and brought up his game, having heroic Reggie Miller-like three-pointers towards the end of the game and helped the Jazz knock down Miami.
The Heat would then get pummeled again, getting triumphed by the older Big Three, the Boston Celtics. In their rematch, the Celtics once again came out on top with a 112-107 victory as they dropped Miami towards a 5-4 record. This is the record nobody expected at all.
But hey, guess what?
It happened!
And as the saying goes, s*** happens. And for the Heat, it's getting pretty stinky. And like their name, they might as well heat up some of that cow dung like they showed in the South Park episode.
But now I am getting carried away. Let's get back to where I was. Now what was my topic supposed to be about? Oh yes, Chris Bosh!
"People talk about the Big Three, but it's really been the Big Two and Bosh,'' said one Eastern Conference scout who has watched Miami several times. "Bosh has gone from a superstar to just another guy who isn't that much different than Beasley.''
In both of those meetings against the Jazz and Celtics, Bosh couldn't produce. Take a look at his statistics this season compared to last season:
This Year (Miami Heat): 14.8 PPG, 6 RPG, 1.8 APG

Last Year (Toronto Raptors): 24 PPG, 10 RPG, 2.4 APG
There is absolutely no excuse why Bosh is producing like this. However, he does have one. Pat Riley needs to realize this by now: HAVING JOEL ANTHONY AND JAMAAL MAGLOIRE AS YOUR CENTERS WILL NOT HELP YOU AT ALL! You need a true center. You need guys that can help. Anthony, who is currently starting, is producing these amount of numbers:
1.7 PPG, 3.8 RPG
Are you kidding me? At least hook up Kwame Brown or get Michael Olowokandi out of retirement because they can produce better than if they were starting center. Let Greg Oden play while injured. He will get some rebounds! It's ridiculous. You can't have that type of production from your center.
Along with that, why couldn't the Heat start Mario Chalmers in the first place? Chalmers will now be starting after Miami realized Carlos Arroyo isn't good enough to take over starting roles. It's about time.
It's sad, really.
But this is why Bosh isn't producing, if people haven't realized by now. Bosh needs a true center to help him. Rumors have been coming up that Miami could go for Erick Dampier and sign him. Dampier is much better than Anthony or Magloire, no question. The fella can at least rebound, putting up about seven point and seven rebounds a night.
And with the Heat, you can expect a big increase in rebound when Dampier joins. Plus, with Juwan Howard as back-up, Miami can work very well with this.
Bosh easily expected to get more rebounds when he gets help. Because these past two games, he has been bullied by Kevin Garnett, Shaquille O'Neal, Glen Davis, Paul Millsap, Al Jefferson, etc. because he is the one-man show in the paint. That is why you got even LeBron James and Dwyane Wade getting a bunch of rebounds because they realize Bosh is struggling.
So help him by getting him a true center! It will do the Heat a big favor.
Along with that, Miami could also go for Jason Thompson, as the Sacramento Kings have been trying to shop him. Personally, I think Thompson would be a much more reliable option. He is about seven-feet tall and is very young and promised. He has a lot of skill and is very athletic. He can play center, power forward, and small forward. I would take the chance in bringing him in.
But Bosh, you need to step up, too. Seriously, dude. I have seen you with the Raptors. So what if you got James and Wade doing fine without you?
Step it up!
I know Bosh can do a lot better than he is doing right now. Now he's got people saying he should be traded like famous Fox Sports columnist, Jason Whitlock. If Bosh keeps playing like this, I would have to agree with Whitlock.
Every team has had success with a good big man. Bosh needs to step it up. He needs to be that Dennis Rodman. He needs to be that Charles Oakley. He needs to be that Kurt Rambis.
Be the big man, Chris.
Take control.
The Heat are at 5-4. And there is more hate than ever.
Wade and LeBron are doing fine. They need that missing piece to fill in the puzzle to success.
And that missing piece is you, Christopher Wesson Bosh.
So How About that Free Agency Class?
The free-agency class was awesome this year. But many teams have been struggling lately with their new, improved squads. Yeah, improved alright.
Pff! Yeah whatever.
The New York Knicks? Seriously? At 3-5?! Come on, Knicks. Amare Stoudemire is now getting ticked. I predicted the team to go 44-38. They are right now at 3-5. They also got a handful of other awesome players like Raymond Felton, Anthony Randolph, and Wilson Chandler. Plus, don't forget Danilo Gallinari and others.
But still, it's not good enough.
Stoudemire obviously doesn't appreciate this.
"It's definitely not fun, it's not fun,'' Stoudemire said Thursday before heading to Minnesota for Friday's game against the Timberwolves. "It's a learning curve for us.''
When you look at the Knicks, they gave away their then-best player David Lee to the Golden State Warriors. Coming to mine, and everybody else's surprise, the Warriors have been amazing this season and are doing far better than the Knicks.
Lee may probably be glad at where he is at right now. They have some solid, underrated scorers like Monta Ellis and Stephen Curry. Lee has been at the top of league, especially in rebounds and has been producing very well.
"My role has changed a little,'' Lee said. "When I was here in New York, I had to score. But as far as putting up 25 points a night, I don't have to do that now. With the scoring guards we have, I have a little more help now. This is a great situation for me.''
The Knicks, on the other hand, really need to improve. But hey, it's only eight games into the season. I think they could turn it around. The Knicks are tired of losing, and for them and Stoudemire, they want to win. STAT finally stepped as the leader he was supposed to be after losing to the Warriors.
He said, "We can't get comfortable with losing. That's the mentality we can't have.''
The Knicks can't have this losing anymore. They want to end it, and now.
But the $100 million-dollar-man can't do everything by himself, even if he is the face of the franchise of basketball in the Big Apple.
"Our biggest weapon is Amar'e, and he's having a hard time getting open looks and getting to the foul line,'' coach Mike D'Antoni said. "So we've got to help him a little bit.
The Chicago Bulls have also been a surprise, as they are in a tight race for the Central Division, with the Indiana Pacers! But I'll give them an excuse since Carlos Boozer hasn't played a game yet.
Chris Paul MVP, Staying in New Orleans?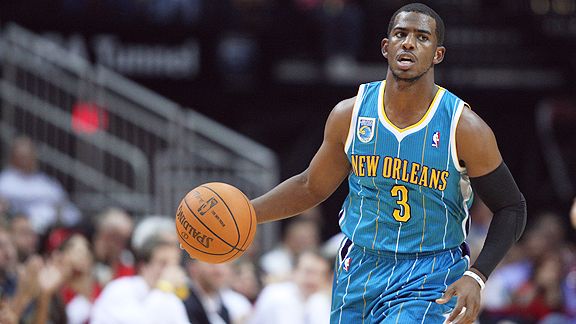 Chris Paul is arguably the best point guard right now in the NBA. Actually, I would give him a tie for first place with Deron Williams as both are hard to pick over. Paul is leading the New Orleans Hornets with a one-man show as his team continues to stay unbeaten. Williams has been doing the same, now making the Utah Jazz the Comeback Kids of the NBA after comeback wins over the Miami Heat and Orlando Magic.
It's exciting.
But for right now, if there were to be an MVP vote, it would come down to LeBron James and Chris Paul. James is averaging a near triple-double and could be onto a big season. Paul is a one-man army and continues to put up big numbers in the points category. But he is also a passer, recently dropping 19 dimes in a game.
Paul is averaging 18 points and ten rebounds per game.
After his injury last season, many took him out of the top point guards list. But he has re-tamed his role and wants to show that he can lead New Orleans to solid success.
"I know Chris," Denver's Carmelo Anthony said to ESPN's J.A. Adande. "That's my guy. I know he wants to prove that he is one of the top point guards in the NBA. By his injury a lot of people stopped talking about him, which is normal. I'm glad to see him back doing what he can do."
If Paul wins the MVP and leads the Hornets to at least the Eastern Conference finals, you can bet he is going to stay and try lure some people here to New Orleans.
In Adande's column, Paul showed how serious he was for this season. He was more serious than Kobe Bryant, and that's probably saying something:
"It was letting them know how I felt," he says. "I don't just play for the 82-game season. I want to win, and I want guys that are on that same page." Between Monty Williams' coaching and new general manager Dell Demps' early moves, such as bringing in Trevor Ariza, Paul has seen some encouraging signs. "Coach really came in here with a great plan," he says. "He's got a great group around us right now, guys that just work hard. It's a long season. We're going to see how it goes.

"They're doing a real good job right now."
Paul is showing he may not be going anywhere.
And that's a good sign for the Hornets.
And the city of New Orleans.
If Paul can stay here and bring at least one championship to New Orleans, he will be, quoting Adande, relevant again and hold this down as a crowning achievement.
This concludes the NBA Talk column today! Next time I hope to share power rankings and things like that! Stay tuned! Thanks for reading!