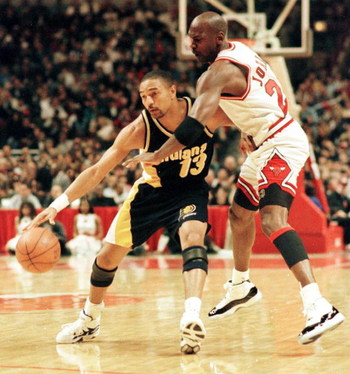 Former Indiana Pacer, Mark Jackson, is rumored to become the new head coach of the Indiana Pacers. Ken Berger of CBS Sports noted this, along with Utah Jazz assistant head coach Tyron Corbin as a possibility.
Frank Vogel is currently the head coach right now as an interim. Maybe he could in fact prove people wrong and become a good coach. But we'll get to that later.
"We don't feel good where we're at as a team," president Larry Bird said Sunday. "I think our players understand we're trying to do all we can to get back on the right track. Hopefully we can move forward and win some ballgames and get back in playoff contention."
"...his harsh public criticism of center Roy Hibbert and his reluctance to play the team's younger players, especially Tyler Hansbrough," Larry Bird addd about the firing of O'Brien.
"I never did that when I was a coach and I didn't like it when I was a player," Bird said. "If you look at some of our players, especially Roy, he looks like he's down. He's not running around, not having a good time like he was earlier. Obviously it's affecting him."
Another coach that has been noted is Mike Brown, the former Cleveland Cavaliers' coach. I think Brown is the best option right now as the new coach. Brown led the Cavs to multiple NBA Central titles, playoff-berths, and an NBA Finals appearance with a crappy Cavs' team relying solely on LeBron James. But now he is a wide variety of weapons instead snubs like Anderson Varejao and Larry Hughes. He's got Danny Granger, Roy Hibbert, and Darren Collison all on one team. I think he can easily lead this team to a 50-game win season.
Larry Bird noted in his press conference that he would like to see Lance Stephenson added more into the rotation. The kid was a star at high school and college and hopefully is going to be a key part of the team's future. He was a boss at the Summer League, but so far hasn't played at all, thanks to O'Brien's stupid rotation. It seems like he will now finally play a game.
We could see Stephenson in action tonight against the Toronto Raptors, who are 13-35. I think Stephenson will see some minutes, along with more for Tyler Hansbrough and Paul George. Don't be surprised seeing George and Hansbrough possibly starting tonight. I see a big game in for the Pacers' big three.
And back to Frank Vogel. He gets to open the season up well with a home game versus Toronto tonight, then against Cleveland after. Vogel said that he will in fact be playing George, Stephenson, and Hansbrough a lot more.
Ever since O'Brien started criticizing his players, they struggled. For example, Roy Hibbert. His production has gone down tremendously and has been averaging a minuscule 6.9 points per game. I see him in a big game now.
"I expect his game to take off," Vogel said. I agree. I see a win for Indy and hopefully a better future ahead now without O'Brien.