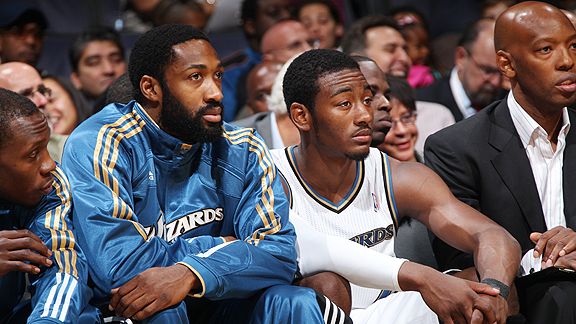 John Wall has been coming off of some dazzling performances with the Washington Wizards lately. And he can't stop. The Washington Wizards have a solid set of guards, and with Gilbert Arenas back, Washington can be just that much better now.
Arenas was coming off a rusty performance in his debut, totaling up towards 18 points. However, we should give the guy an excuse. The man hasn't played since January due to his 50-game suspension due to weapons. Arenas went towards a point of retiring. Now he is back, and is most likely to be Washington's starting shooting guard while the rookie phenom in Wall will become the point guard.
When Arenas was point guard, he was mostly a player that Monta Ellis is right now. He was just a scorer. Agent Zero wasn't a true point guard. But Gilbert was literally unstoppable. He was amazing. I remember a point where he was campaigning for MVP, looking like he could drop 40 points every game. Arenas was hitting long three's everywhere, and a bunch of game-winners. When he visited my favorite NBA team, the Indiana Pacers, Arenas just made them look like fools.
Arenas was just amazing, and made the NBA slogan fit so well to his name. If he were to start a website for himself (he probably has one, I bet), it would be called GilbertArenas.com and the tagline saying "Where Amazing Happens." Literally. But then, his last two or three seasons in the league, Arenas was struck by injuries that forced him to miss a ton of the season.
Arenas is here to live up to his fat contract, which totals up to the neighborhood of $120 million or something like that, I really don't remember. But it was a large sum amount of money he had on the table. It was like what happened to Joe Johnson right now with the Atlanta Hawks. Arenas was entering free agency off a great year. The Wizards badly wanted him back, and they gave him a huge amount of money. That is what the Hawks did with Johnson. And yep, both Johnson and Arenas accepted.
After the injuries, was Arenas worth all of that money? Nope. Not at all. But after everything that has happened to the former All-Star, he is looking to redeem himself. And with a rebuilding crew Washington currently has right now, it is very possible Arenas can return to his former, old self.
And if that happens, the tandem of him and Wall could live on for a long time. At 28 years old, Arenas has a lot of time to work out with Wall and create possibly the best backcourt in the league! Wall is so far averaging 21 points, nine assists, and three rebounds per game. The stat categories of points and assists per game is number one among all rookies.
Wall and Arenas both make fun-loving characters on the court. We all know how lovable and funny Arenas is. Once he gets his swag going, he can team up with Wall to make fun and entertaining games for the crowd. And then there is Wall, sparking up his new, gold shoes along with his dance he invented back in Kentucky. He has now also opened up to the new, hip dance called the Dougie.
To me, I think this could work. If the Miami Heat can share the ball like they are doing, despite having tons of scorers, then the Wizards can do it a lot faster. And plus, with other guys like JaVale McGee, Kirk Hinrich, Andray Blatche, and more, Washington is heading towards a bright, bright future.
Definitely looking forward to this tandem this season.
So can John Wall and Gilbert Arenas work it out together. Yes, indeed.
Piece of cake.