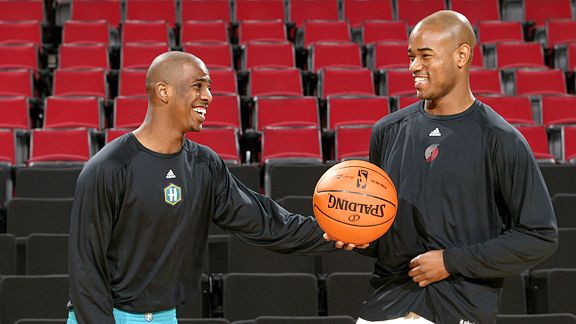 The New Orleans Hornets got a major upgrade in the team's trade with the Toronto Raptors. After recently acquiring Jerryd Bayless, New Orleans gave him away, sending him off to the Raptors along with Peja Stojakovic for Marcus Banks, Jarrett Jack, and David Andersen. The Hornets, now one of the top contenders in the West, have now put themselves in a better position to be on top.
New Orleans made a solid decision, and this definitely wants Chris Paul to stay even more, considering that the top point guard in the league right now will be teaming up with his buddies in Jack, who is one of the best shooters in the league. Jack is the best player in this trade.
New Orleans well-executed this trade, getting a great player without giving up someone that is important to the team's future. This trade also puts the team under the luxury tax. The trade finally gives up all the players that have had bad contracts with the team. Stojakovic was a solid three-point shooter. New Orleans overpaid him entirely and became washed-up. It's about time they gave up on him.
New Orleans finally has given up on all the contracts now. They lose the mid-level exceptions of Morris Peterson and James Posey. The then dumped Darius Songaila along with another mid-level in Bobby Jackson. But with those four gone, New Orleans was stuck with the big five-year, $60 million waste on Stojakovic. New Orleans are now good with the salary cap and are now keeping Chris Paul happier than ever.
Jack was a great option and an easy upgrade over Bayless. With a team that needs to win now, Jack was a solid pick-up. Bayless has a lot of potential and is good at scoring, but he is just not that good enough to fit in the system New Orleans has. Bayless will complain, especially since he is playing ten minutes a night. Obviously, that is a cause-for-concern. Heading to Toronto, expect Bayless to be putting up big numbers.
Jack could also fit well playing a bit of shooting guard, too, considering is he one of the best shooting point guards in the league. He can create space easily and can hit the shots from long-range. He is a solid fit to the rotation. And Jack can score almost anytime he can. In the 2008-09 season with the Indiana Pacers, Jack averaged about 14 points per game, and he was a back-up to T.J. Ford! He averaged just as much as Ford, too. Jack will be a solid sixth man.
With the pick-up of Andersen, many would think they should just dump him already. Andersen is a soft big man, but the seven-footer could actually be useful. Andersen will be useful a lot in pick-and-rolls. Andersen is also a pretty good defensive player, so expect some good things actually from him.
Apparently, the Hornets are now good to go. Marcus Banks will be helped in depth and could be a helpful player, hopefully, off the bench. As for the Raptors, they just need to make the most of it. Stojakovic is a good three-point shooter, but he not be needed much. Bayless will help, like I said earlier.
The Hornets get an A-plus in this trade. This was a solid move made by the management team. As for the Raptors, they get a D-minus. Bayless is a good pick-up, but how can you be stupid enough of giving up a guy like Jack and going for a guy like Stojakovic?
Keep up the good work Hornets, and best of luck in the season!